Today is an exciting day at Queenston on Centennial as we launch our own publicly accessible electric vehicle (EV) charger.  This green initiative is part of Sun Country Highway's charging network that has been set up in the Golden Horseshoe from Niagara Falls to Oakville.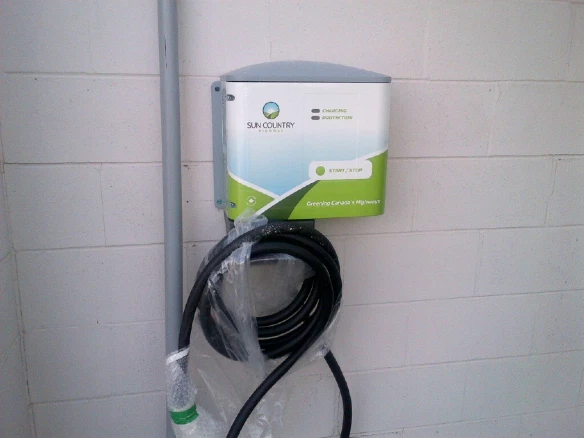 Sun Country Highway, a wholly Canadian owned company, is at the forefront for sustainable transportation and have been leaders in launching this infrastructure to help energize Electric Vehicle adoption across our country.  Over the course of today, SCH will be making a 5 stop tour, led by their founder Kent Rathwell (who will be driving an all-electric Tesla Super Car) across the Niagara region to charge the vehicle.  The final stop on today's tour will end at our Queenston on Centennial dealership at 3:45 this afternoon.
What few realize is that the Sun Country Highway's initiative is not only one of the first of its kind, but the charging network they have pioneered is the "World's Longest/Greenest Electrified Highway" with over 100 charging stations across Canada.  This highway will allow Electric Vehicle owners to travel FREE of charge, emission free, across Canada!  Being a part of the Chevrolet family, we at Queenston on Centennial are proud of our own Electric Vehicle, the Chevrolet Volt, and are thrilled to be a part of this project!
If you would like more information on our publicly accessible electric vehicle charger or information on the Chevrolet Volt, please visit us at Queenston on Centennial or contact us at 905-560-2020.
By: Amy Cochren