I never fail to receive impressed looks from customers when they lay their eyes on the attractive lines and stunning waterfall grille of the Buick Verano.  The nod of approval I get when they discover its impressive gas mileage (46mi/gal hwy, 29mi/gal city) and outstanding warranty (4 year/80,000km New Vehicle Limited Warranty and 5 year/160,000km Powertrain Warranty with 24/7 Roadside assistance) is nothing short of satisfying.  However, what customers are most pleased with is the affordable pricing of a well-equipped luxury sedan that starts at $24,190 and its attractive leasing programs.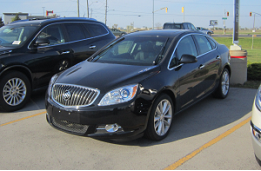 From the moment my customer's sink into the Verano's very comfortable and supportive seats, to the time they push the ignition start button and hear the 2.4L, 4 cylinder 180 Horsepower engine purr like a kitten, they know instinctively that they are in a vehicle class above the rest.  The wide-eyed deer caught in the headlights look customers give when they scan the elegant and intuitive controls, lets you know that they are soaking up the delightful infotainment system and built-in navigation. 
Now, if you've driven the roads by Queenston on The Mountain, you know they are a little rough.  That being said, they do help to prove a point   – The Buick Verano handles wonderfully!  This car drives effortlessly over the bumps and pits without the need for wearing a kidney belt!  The road construction buzz of jackhammers and machinery on Rymal Road are almost completely tuned out with components like triple sealed doors and a headliner made with no fewer than 5 layers of acoustic insulation material.  By the time we are back at Queenston on the Mountain, I have one very impressed customer on my hands.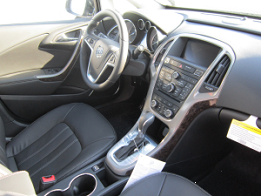 Hmm where shall we park this one, in the sold row? 
Betty Greiser
Sales and Leasing Consultant
Queenston on the Mountain