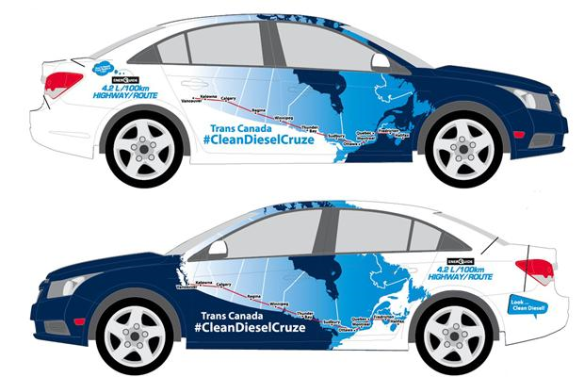 Last Thursday, husband and wife team Garry Sowerby and Lisa Calvi embarked on a challenge some might call crazy.  Over the course of 10 days, they will venture on a cross Canada Journey from Vancouver to Halifax on the Trans-Canada Highway in an attempt to set the record for lowest fuel consumption.  "We want to set a record that will be difficult for someone else to beat within the same parameters", said Lisa Calvi.
Sp why did this couple choose to drive the all-new 2014 Cruze Clean Turbo Diesel?  The answer is simple!  It is better than any non-hybrid passenger car in Canada, so what better car to help them break the record.  The Cruze diesel offers a segment leading 151 horsepower and 264 lb.-ft torque.  Additionally, it comes with a sex speed automatic transmission, four-wheel antilock disc brakes, 3.20 final drive ratio, 140-amp alternator, 800 cold-cranking amps battery 17 inch alloy wheels, ultra-low-rolling resistance all-season tires, Chevrolet MyLink infotainment system and more.  the starting price of the Cruze Diesel is only $24,945.  Even with the $1550 destination charge, the Cruze Diesel is a better value than the comparable Volkswagen Jetta TDI automatic.
This current record for lowest fuel consumption was set last year by Volkswagen and Shell with a consumption of 5.59L/100km when they used a 2012 VW Passat with a gasoline engine.  this year, with the Cruze Diesel, Garry and Lisa are hoping to have a highway fuel consumption rating somewhere in the four-point something litre per 100km range.
In order to achieve this, the adventurous couple will face a few challenges along the way such; maintaining the speed limits, finding the shortest route possible and having very little time for food, stops and accomodations.
If you would like to follow their journey, visit their blog at driving.ca or keep reading Hamilton Auto Blog for the latest up to date information on all things Chevrolet.  If you are interested in purchasing the Cruze Diesel or any other vehicles in our award winning line-up please visit us at http://www.queenstonchev.com.
By: Amy Cochren
Credit: GM Canada, Driving.ca