In May, Chevrolet unveiled the stunning redesign of the iconic Chevrolet Camaro, which will debut early in 2016.  This sixth generation Camaro will offer higher levels of performance, refinement and technology.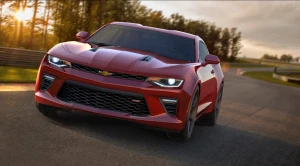 The Camaro's leaner, stiffer platform and slightly smaller dimensions are accentuated by a dramatic, sculpted exterior. Meticulously tunedin the wind tunnel, the exterior contributes to performance through reduced aerodynamic lift for better handling while enhancing efficiency.  The vehicle mass has been reduced by 90 kilograms (200 lbs) or more, depending on the model, creating a more nimble, responsive driving experience.
Six all-new powertrain combinations are offered, including a 2.0L Turbo rated at an SAE-certified 275 horsepower, an all-new 3.6L V-6 producing and SAE-certified 335 horsepower, and the LT1 6.2L V-8, assembled at GM's St. Catharines, Ontario engine plant, which is SAE-certified at 455 horsepower and 455 lb-ft of torque – the most powerful Camaro SS ever. Each engine is available with a six-speed manual or eight-speed automatic transmission.
For the exterior, the 2016 Camaro is honing in on customer customization, including 10 exterior colours, five interior colour combinations, lighting options and a full complement of dealer-available accessories available at launch – including wheels, stripe packages and additional accessories.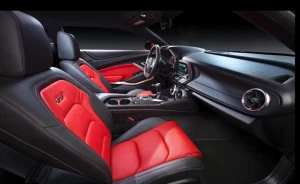 A driver-focused interior integrates class-leading control technologies, including:
All-new Drive Mode Selector, which tailors up to eight vehicle attributes for four modes: Snow/Ice, Tour, Sport and – on SS models – Track settings
Segment-exclusive, Interior Spectrum Lighting that offers 24 different ambient lighting effects on the dash, door panels, and Centre console
High-definition, configurable colour displays – including available dual, 8-inch-diagonal screens.
"Redesigning the Camaro is thrilling and challenging all at once, but the secret is to offer something more," said Mark Reuss, General Motors executive vice president of Product Development. "For Camaro enthusiasts, it retains iconic design cues and offers even more performance. For a new generation of buyers, the 2016 Camaro incorporates our most innovative engineering ideas with finely honed performance and leading design."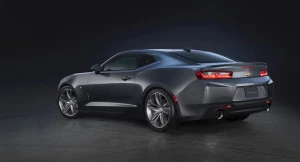 The 2016 Chevrolet Camaro is due to makes its arrival at Queenston early in 2016 and we can't wait!  Visit us online at www.queenstonchev.com and stay tuned to Hamilton Auto Blog for more details on the all-new 2016 Chevrolet Camaro.
Source:
http://media.gm.ca/media/ca/en/gm/news.detail.html/content/Pages/news/ca/en/2015/May/2016_Camaro.html