When you think Chevrolet, you can't help but think of the Silverado.  As it's one of our most popular vehicles here at Queenston, we were excited when Chevrolet released a sneak peek of the redesigned 2016 Chevrolet Silverado 1500 pickup.
"The redesigned 2016 Silverado will build on Chevy Trucks' legacy of dependability. It will feature a more muscular appearance and offer new customer-focused technologies," said Joe De Stefano, brand manager, Chevrolet Trucks in Canada.
The Silverado's bold new front end design adds aggressive horizontal elements, sculpted hoods and dramatic lighting.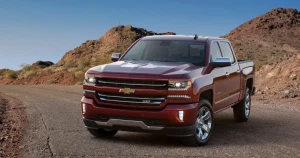 Other changes for 2016 will include expanding the use of 8-speed automatic transmissions, updated Chevy MyLink with support for Android Auto and Apple CarPlay, and additional safety technologies.
We will receive more information later this year regarding the 2016 Silverado's revamped design – stay tuned to Hamilton Auto Blog for updates!  In the meantime, visit us at www.queenstonchev.com to browse our expansive Chevrolet inventory.
Source:
http://media.gm.ca/media/ca/en/gm/news.detail.html/content/Pages/news/ca/en/2015/Jul/0713_Silverado.html