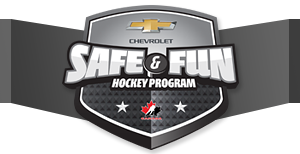 The Chevrolet Hockey Helmet Program is back in conjunction with Chevrolet's Safe & Fun Hockey.  This program was created in 1999 for today's youth to adopt proactive attitudes toward safety, as well as foster a healthy and positive attitude toward "competition, teamwork, fair game and grace under pressure" in hockey.
Through an ongoing partnership with Hockey Canada, in the last 2 years, Chevrolet handed out over 25,000 free hockey helmets to parents of 5 year olds in Canada.  This year, all players born in 2008 who register with Hockey Canada are eligible to receive a free Bauer Hockey Helmet.  It is important to note that parents must register their child to receive this offer.  coaches, managers or other team officials may not do so.  What is required?
A printout of the registration form; click here to register
Your child's birth certificate/passport or other provincial/federal documentation that states his/her age.
Proof of registration with a Canadian Minor Hockey Association in this current hockey season.
If you meet the above requirements, all you have to do is drop by one of our two dealerships' Queenston on the Mountain or Queenston on Centennial.  Present us with the appropriate documents for verification purposes and we will present you with a voucher to redeem for your child's helmet at your local Forzani store (SportChek, Sport Mart, Hockey Experts, Intersport or Sports Experts).  In your package, you will also receive information and hockey-related items from Chevrolet Safe and Fun Hockey, Hockey Canada, Forzani and Bauer.
If you have any further questions or concerns regarding this outstanding program from Chevrolet, please contact us by visiting our webpage http://www.queenstonchev.com
By: Amy Cochren
Credit:
Chevrolet Safe & Fun Hockey http://www.safeandfunhockey.ca/en/helmet