Tag Archives:
2012 Chevrolet Volt
The Transportation and Healthy Living Fair held at Gore Park on June 21, 2012 attracted hundreds of environmentally conscious commuters looking for ways to travel in a more "green" and environmentally friendly way. Located in the heart of downtown Hamilton, the fair was perfectly situated with many people enjoying the summer sun and those enjoying their lunch breaks.
Despite the sweltering heat and humidity, crowds gathered around in awe to admire the sleek design of the 2012 Chevrolet Volt – an extended range electric vehicle.  Betty Greiser, sales and leasing consultant at Queenston on the Mountain, was there to meet with and introduce the crowds to a "greener" way of travel.   The environmentally friendly commuters were also introduced to the new MOT "green plates" that allow drivers to travel in the HOV lane – making their commute not only "greener" but speedier as well.
Amongst participants and fellow eco-friendly enthusiasts, we are proud to say that the Chevrolet Volt stood out as the star of this event.  
By: Nerissa Mohamed
Who killed the electric car? NO ONE!  If you're looking for an "electrifying experience", you need to consider the 2012 Chevrolet VOLT.
What many people don't realize is that the VOLT is unlike other cars – past and present.  You no longer have to be concerned about how far you can drive, thanks to a range extending 1.4L gasoline-powered generator that takes over when you run out of battery charge.  The 16-kWh lithium-ion battery will charge in as little as 4 hours, and will allow you to travel between 40 and 80 kilometers on electric power.  The Volt can be fully charged in about 10 hours using a regular 120-volt household outlet.  Say goodbye to gas stations – simply pull up to your own garage, plug it in and you're on your way.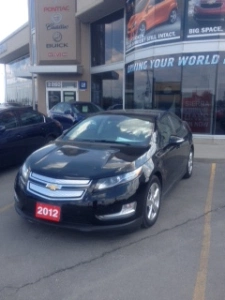 Let's breakdown some of the state of the art features the Volt has to offer.
The Chevrolet Volt features 3 driving modes: Normal, Sport and Mountain
Each Volt comes equipped with 8 standard air bags.
A charge unit and 5.5m 120-volt charge cord are included with every vehicle purchase.
Because the Volt runs in almost complete silence, an audible alert helps warn pedestrians of your approach.
The 16-kWh lithium-ion battery combines power from over 288 individual cells and is covered by an 8-year/160,000 km warranty.
The StabiliTrak electronic stability control system enhances driver control.
When battery operated, this vehicle produces zero tailpipe emissions!
The outstanding efficiency of the Volt is matched with its unparalleled performance, with an acceleration rate that takes you from 0-96km/h in under nine seconds.  Perhaps the most noteworthy feature is the almost silent delivery of the Volt.  When driving this vehicle, you will discover that it is as smooth as it is quiet – It almost feels as if you are floating through air.
The 2012 Chevrolet Volt is the recipient of several awards including 2011 North American Car of the Year, 2011 World Green Car, 2011 IIGS Top Safety Pick, one of Car and Driver's 2011 10 Best Cars, and Automobile Magazine's 2011 Automobile of the year .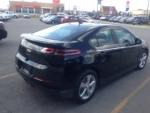 Embrace the future, reduce your environmental footprint and put your anxieties aside with the 2012 Chevrolet Volt.  If you are interested in purchasing the Volt or would like more information, please contact us at one of our two locations: Queenston on the Mountain and Queenston on Centennial.
By: Amy Cochren
CREDIT: General Motors, General Motors Canada