Whether it's towing your boat to the cottage or beach, heading on a camping adventure or just everyday fun, your vehicle plays an important role in summer activities!  When partaking in such, it is not uncommon to use a trailer for towing.  However, as many of us can surely attest, people often tow things in an unsafe manner.  The picture below is a clear example of what NOT to do!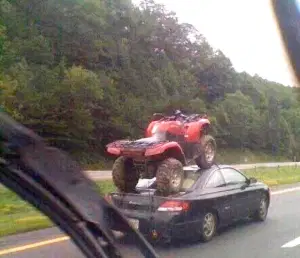 After witnessing the above, we felt it important to share some tips on towing and trailering to keep you and others safe on the road.  First and foremost, it is important that you know your vehicle's towing capacity.  Exceeding this capacity can not only cause damage to your vehicle, but can seriously endanger others on the road.  Each vehicle has a different capacity, so keep in mind that what you are able to tow with one of your vehicles may not be the same on another.  If you are unsure, such information is provided in your owner's manual.
If your current vehicle is not equipped with towing capabilities, be aware that most GM and Honda trucks, SUV's and crossovers have the option for a factory-installed trailering package.  If you are interested in more information on such products or installation, please contact our one of our three dealerships: Queenston Chevrolet, Queenston on the Mountain or Image Honda.
Towing Safety Tips:
Ensure that your vehicle can withstand your trailers capacity.
Make sure you have thoroughly inspected your trailer tires, brakes and hitch and ensure they are in working order before hitting the road.
DON'T overload your trailer and always make sure that the weight is balanced out.
If you have loose items, make sure that they are securely fastened or covered to prevent them from moving.  Accessories such as cargo nets and other products are available for purchase from our parts departments.
Keep a safe distance when travelling behind other vehicles.  The additional weight of the trailer will make it harder to stop.
Always adjust your mirrors so you can see the traffic behind you.
Please keep these safety tips in mind for your benefit and others on the road.  If you have any questions concerning your vehicles towing capacity or are interested in installing a trailering package on your vehicle, please contact us at any of our three locations and we will be happy to assist you!
By: Amy Cochren